If you buy a Motorola Xoom in Australia, you will struggle to update it to ICS without some reasonably technical changes to the tablet. I bought a 32GB wifi Xoom on special from Costco in Canberra (AU$359 with free gel case) after reading up about it and doing thorough research, or so I thought.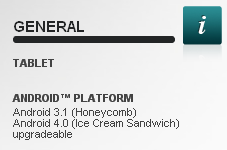 I had done my initial investigation into the capabilities of this tablet a few months ago before ICS was available for any device. Last weekend I saw it again on special, even cheaper, and did some follow up research just to see if it could support ICS. I found a mention of ICS 'upgradeable' on motorola.com (accidentally not the Australian part of the site) in the specifications and a tweet from Motorola mentioning it was available. That was good enough for me to return to the shop to buy it.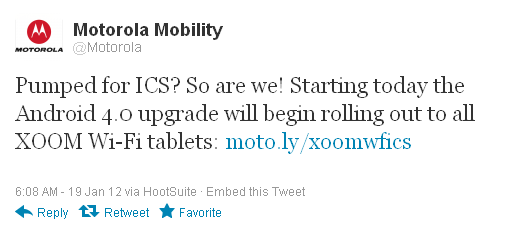 It came bundled with Android 3.2.1 but I didn't want to use it until I had upgraded to ICS. I kept trying the 'check for updates' option in 'about tablet' but it wasn't upgrading. It turns out it isn't that simple to get ICS on an Australian Xoom. The ICS update is only for US Xooms until Motorola in other countries approve the update.
Motorola removed the page that their tweet points to which I thought was a bit misleading. I was getting pretty annoyed at Motorola at this point because I had bought a device that wasn't ICS capable in my country which was not mentioned anywhere.
There was a discussion with just under 3,000 posts called the ICS Upgrade Waiting Room in the official Motorola Xoom Owner's Forum (emphasis mine). I got about 10 pages into that post before I gave up. It was clear ICS was for US wifi only Xooms and most of the other comments were general chit-chat that clogged it up (I didn't want to know what the weather is doing was around the world while you are waiting).
It gets more interesting and it turn out that there are ways around it if you are prepared to make a few drastic changes to you Xoom. After a bit more digging I found a number of people had upgraded to an early somewhat unofficial upgrade but it appeared to be for US wifi Xooms only as well. It also had other problems such as no longer receiving other OTA updates once you had gone down this route. I wasn't so keen on this so kept looking around.
Thankfully I stumbled across someone with a similar problem from the UK and a number of his helpful blog posts. It turns out the hardware is the same for all wifi Xooms but you may get a specific firmware for your country. So by flashing your Australian Xoom with the US firmware you can trick it into thinking you have a US version which allows you to get the ICS update. Simon provides some great instructions for making your device a US Xoom. A comment on that post confirmed that doing this ultimately allowed you to get the ICS update.
There were a few things that came up that weren't in Simon's excellent instructions which are easy to solve:
The fastboot program missing in the latest Android SDKs (>=r14). Simply get it from r13 instead.
On running fastboot.exe you get 'This application has failed to start because AdbWinApi.dll was not found'. Just run 'SDK Manager.exe' from the root directory of the SDK and install the extra packages. This will remove fastboot.exe for some reason, so just copy it back into the tools directory from the r13 zip file.
Once getting to the US firmware there were a few updates that I had to apply in a row worth a few hundred MB: 3.0 to 3.1, 3.2, 3.2.1 then finally to ICS (4.0.3).
It was all smooth sailing from there. I'm reasonably technical so I was capable of doing this; not many other people would be. Thanks to @SimonJStuart and everyone else that has answered a problem in some other forum or blog for someone else that I came across my Australian Motorola wifi Xoom now runs ICS. I hope this can help someone else do the same until ICS is officially released in Australia.
Update 1 April 2012: My Xoom tablet just received the Android 4.0.4 over the air update successfully this morning.